Description
Book Name: Zero Play ( Sifar Natak)
Writer: Ravinder Ravi
Language: Punjabi
Publisher: Ravi Parkashan
To buy printed version of this book, contact Writer or Publisher directly.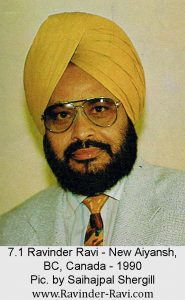 Ravinder Ravi(Ravinder Singh Gill) is a Punjabi writer living in Canada. He is a prolific and versatile writer who has written in Punjabi, English and Hindi. His collections of poetry, poetic plays(Kaav-Naatak/Manzoom Dramas) and short stories have also been published, in Shah Mukhi, in Pakistan.
Ravinder Ravi's books have been prescribed, as courses of studies, for the graduate and post-graduate students, in the universities of India and Pakistan. 6Ph.D. and 8 M.Phil. degrees have been completed on his literary works, in the Punjab and Delhi universities of India.
14 of his 16 Verse-Plays/Kaav-Naatak have been staged, successfully, by the renowned dramatists and stage-directors, in India.
As an Experimentalist(Paryogsheel) writer, Ravinder Ravi has made unique and Avant Garde contributions to the Punjabi literature. He has published 22 collections of poetry, 16 verse-plays(Kaav-Naatak), 9 collections of short stories, 2 literary autobiographies,1 travelogue and several miscellaneous books of literary criticism, prose, interviews and memoirs. He has also compiled and edited several books in Punjabi and English.